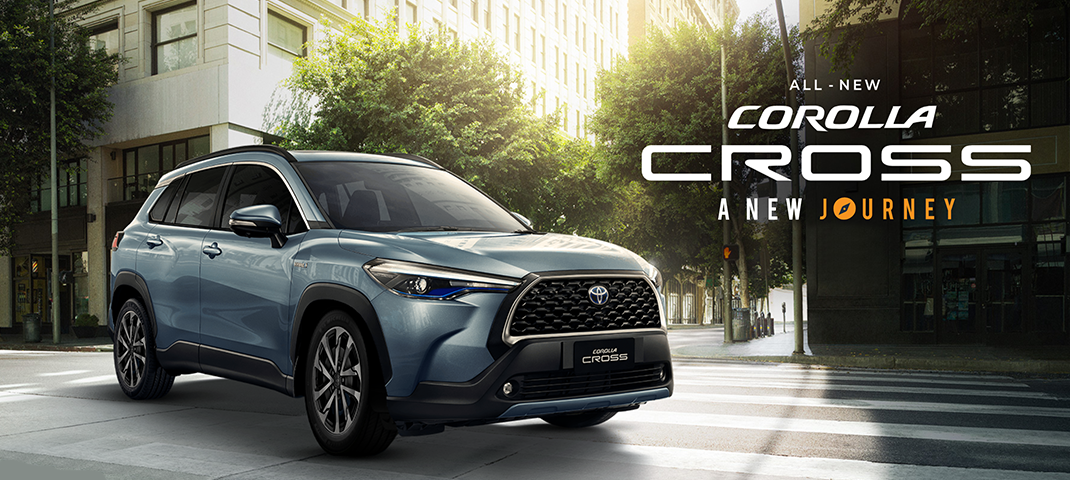 New 2021 Toyota Corolla Cross Blurs The Lines Between Hatches And SUVs
Published:
09 Jul 2020
Category :
Vehicle Offers
---
If you needed any more proof that demand for SUVs and crossovers shows no signs of abating, this is it. Say hello to the Toyota Corolla Cross, a crossover variant of the Japanese marque's most famous hatchback and arriving just a few months after the Toyota Yaris Cross.
The Toyota Corolla Cross has so far only been unveiled in Thailand and uses the Toyota New Global Architecture C (TGNA-C). It will be sold in both hybrid and petrol forms and is 4,460 mm (175.5 inches) long, 1,825 mm (71.9 inches) wide, and 1,620 mm (63.8) inches tall, complete with a 2,640 mm (103.9 inches) wheelbase.
Entry-level models sold in Thailand come outfitted with a 1.8-liter petrol engine producing 140 hp and 129 lb-ft (175 Nm) of torque. This engine drives the front wheels through a CVT. Toyota being Toyota, a hybrid is also on offer, and combines a 1.8-liter that produces 98 hp and 105 lb-ft (142 Nm) with an electric motor delivering an extra 72 hp and 120 lb-ft (163 Nm) of torque. Paired with this hybrid setup is an electric CVT.
Elsewhere, the Corolla Cross comes with MacPherson strut front suspension, torsion-beam rear suspension, disc brakes at all four corners, and is available with 17- and 18-inch wheels wrapped in 215/60 and 225/50 rubber respectively.
From a visual standpoint, the crossover looks nothing like the Corolla hatchback and instead looks more like a baby RAV4. Found up front is a pronounced black grille as well as sharp headlights and LED daytime running lights. The crossover also includes black bumpers, side skirts, and wheel arches while sporting a pair of black roof rails.
Whereas the exterior look is unique, the interior is very familiar with the Corolla hatchback. There is a large touchscreen jutting out of the dashboard, a digital gauge cluster, and the same air vents as the hatch.
Sales of the new Corolla Cross will kick off this month in Thailand. It will land in other markets in the not too distant future as well, though Toyota hasn't provided any specific details yet.